9 Days Mt. Kilimanjaro Climbing: Rongai Route
RONGAI ROUTE.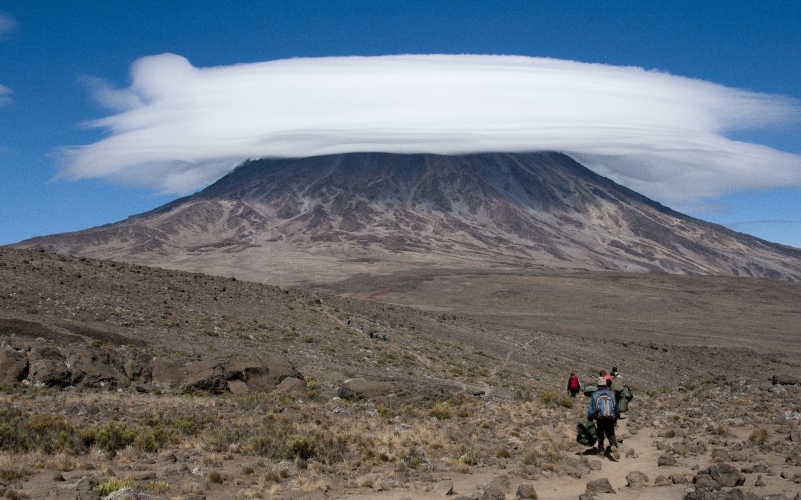 The Rongai route is the only route that starts from the Kenyan side of Mt.Kilimanjaro. Because of its remote location, it has fewer climbers compared to other routes hence offers trekkers a relatively unspoilt wilderness experience and it is possible to see wildlife like, baboon, white and black Columbus monkey, blue monkey and different species of birds. Trekkers are also likely to get a clear, scenic unclouded view of the mountain from this route.
Prices on request:
1
Day 1: Arrival
Arrival at Kilimanjaro airport - you will be picked by your driver guide and taken to a hotel in Moshi for your Overnight.
2
Day 2: Rongai gate – First camp
You will be picked from your hotel at 8am and start the transfer to Rongai gate where you start your climb. Have lunch and start your Expedition to the first camp. The track then starts to climb consistently, but gently through an attractive forest that shelters a variety of wildlife. Your Overnight will be at Simba camp(8500ft)
3
Day 3: Kikelewa Caves
After breakfast, you steadily hike up to Second Cave where you enjoy a rest followed by a hot lunch – enjoy the views of Kibo from here. Then continue a little further across the moorland and onto Kikelewa Caves. Your Overnight will be at Kikelewa Camp(11,800ft)
4
Day 4: Mawenzi Tarn
A short but steep climb up grassy slopes offers superb views of this wilderness area. The vegetation zone ends shortly before you reach at Mawenzi Tarn, situated beneath the towering spires of Mawenzi. Spend the afternoon acclimatizing and/or exploring the area accompanied by your guide. Overnight at Mawenzi Tarn(14,200ft)
5
Day 5: Acclimatization Day
Acclimatization day! Together with your guide, head up to Saddle towards Camel's Back and return to the amp for relaxation. Your overnight will be at Mawenzi tarn
6
Day 6: Kibo Hut
Continue ascending on the east side of Kibo crossing the saddle between Mawenzi and Kibo to reach Kibo Hut. The remainder of the day is spent resting in preparation for the final ascent, which begins around midnight. Overnight at Kibo hut(15,400ft)
7
Day 7: Summit Day
Early dinner and sleep. Then you'll be woken up at midnight for the summit trek to UHURU PEAK. You will be served with some tea and biscuits and start your ascent in the dark across a rocky path to the first check point, the HANS MAYERS CAVE POINT. You'll have a short break then proceed on to GILMANS POINT at the crater rim. Further trek to STELLA POINT before reaching Mt.Kilimanjaro's highest peak i.e Uhuru peak! You'll have a brief stay here as you take a few photos of this lifetime achievement and descend down to KIBO HUT for brunch. Have a short rest and trek further down Horombo hut for the night
8
Day 8: Last Morning on the Mountain
Have breakfast then descend slowly towards Marangu gate for your exit. You'll be awarded certificates for your achievement of summiting Africa's highest peak! You'll later be transferred to your hotel in Moshi for a well-deserved shower and Overnight in a comfortable bed.
9
Day 9: Departure
After a good night sleep and a leisurely breakfast, then you will be transferred to Kilimanjaro International Airport in time for your onward flight back home.