5 Days Mt.Kenya Trek: Sirimon Down Chogoria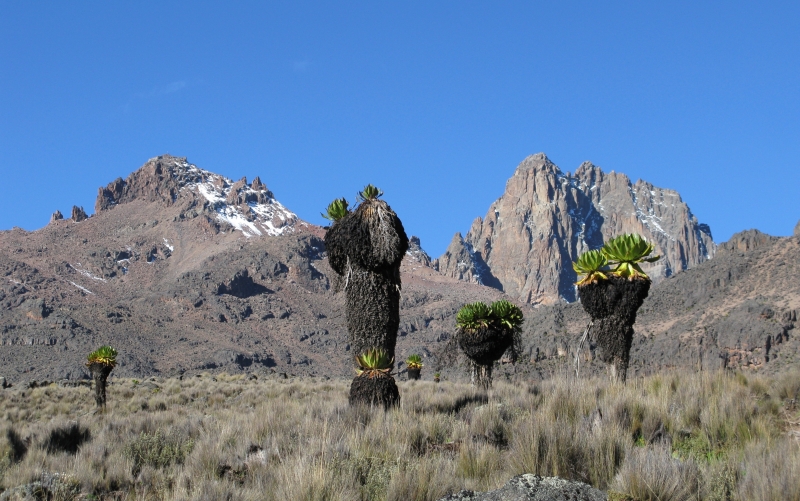 Sirimon route is considered by many to represent Mt. Kenya one of the easiest route to reach Point Lenana.
The route is on dry side of the mountain and affords walks through old growth forest on lower slopes and giant heather, alpine flowers and lobelia in higher elevations.
Chogoria route is said to have the most scenic views of Mt. Kenya and is on the wetter (East) side of the mountain and the Chogoria Forest offers some exceptional walking and sceneries. The bamboo forest is also thickest on this side of the mountain. Beyond the Park Gate is the magnificent Lake Ellis.
1
Day 1: Nairobi – Sirimon- Old Moses Camp
Depart Nairobi for Nanyuki at 0700hrs expected to arrive at the Mt. Kenya National Park Sirimon gate for lunch. After lunch, follow the track uphill for 10 km to Old Moses camp which is situated at 3,300M. Dinner and overnight at Old Moses Camp
2
Day 2: Old Moses – Shiptons Camp
After breakfast, leave at 0800hrs crossing several small streams to reach the crest of the ridge between the Otulili and Liki North Valleys, then into the magnificent Mackinders valley, continue walking to Shiptons camp 4250M. Dinner and overnight at Shiptons Camp.
3
Day 3: Shiptons - Point Lenana- Mintos
Wake up at 0200hrs have tea and biscuits, then leave at 0300hrs for the Lenana summit. This section is a long, hard slog, and the path is indistinct in some places. Expected to reach point Lenana at 0630hrs and catch the one of the most amazing sunrises in the World. After enjoying the views and taking your pictures, descend down to Mintos point for lunch, dinner & overnight.
4
Day 4: Mintos – Meru bandas
After breakfast continue descending down to Meru Bandas above Chogoria gate, following the Gorges Valley. It will take you 5 hours to reach the bandas, Dinner/overnight at the Meru bandas
5
Day 5: Chogoria- Nairobi
After morning breakfast, continue walking down through the bamboo and indigenous forest to reach Bairunyi to meet up with your transport back to Nairobi via Chogoria town after a very memorable climb up. Expected to get back to back to Nairobi by evening